Building valuable customer relationships is founded on intentional connections created through communication and meaningful experiences.
This requires a fluid, fit-for-purpose approach that meets personalised customer needs and advances key business objectives.
Lifecycle marketing is a way to engage with customers based on who they are and how they behave in the context of how they interact with a business. It involves an always-on process that provides customers with contextualised experiences at the right time through relevant channels.
No two lifecycles look the same.
By starting with a clear understanding of your customer needs and key business objectives, brands can build a fit-for-purpose lifecycle that brings real value to both.
The building blocks of lifecycle marketing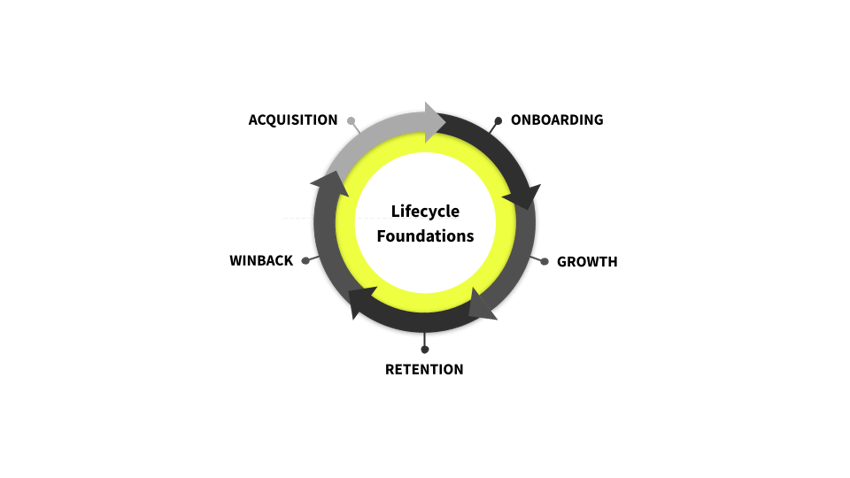 Lifecycles are often built on five main pillars - acquisition, onboarding, growth, retention and win-back. A clear understanding of each pillar can provide a general framework for brands to understand their relationship with a range of customers that have, and will, engage with their brand.
Acquisition is focused on new customer consideration and conversion.
Onboarding is focused on driving education and early engagement with a new product or service.
Growth is focused on driving utility, share of wallet, revenue and engagement.
Retention is focused on recognising high-value customers and re-engaging customers who are showing signs of disengagement or who are actively trying to leave.
Winback is focused on lapsed customers and getting them to return.
While most lifecycles follow a similar sequence, smart businesses will uniquely refine their lifecycle to consider key variables such as industry, product type, service model, company strategy and customer profile. When doing this, it is important to consider:
The strategic purpose of each pillar within the broader context of the lifecycle.
The customer and business objectives of each lifecycle pillar, with unique KPIs attached to each.
How long each customer spends in each lifecycle pillar, and what action or behaviour triggers entry and exit into the pillars.
The relevance of each lifecycle pillar for each customer segment and marketing channel or touchpoint.
For those looking to build a lifecycle that is unique to their business and their customers, here are five examples that demonstrate how a lifecycle can be adapted to meet different requirements and needs.
InfusionSoft's Lifecycle Model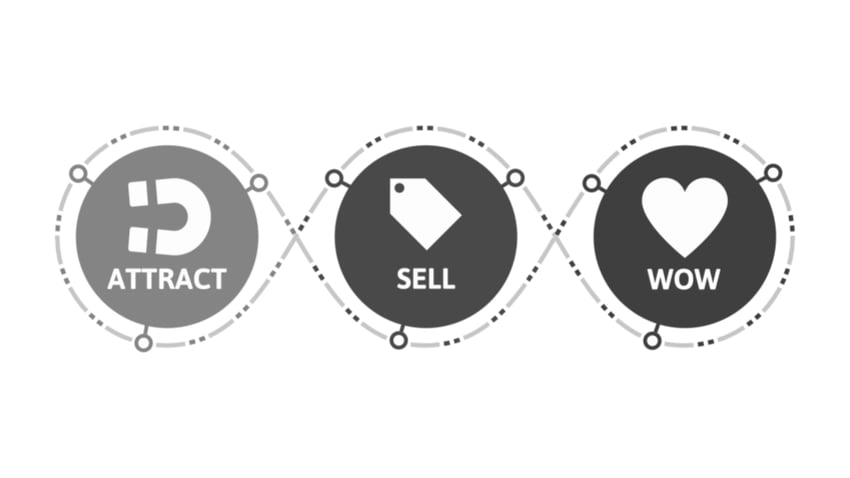 Often credited as the 'first' lifecycle model, the CRM platform InfusionSoft built its software around a customer lifecycle-based approach. By dividing the customer journey into three main stages - Attract, Sell and Wow - its users could shift from a transactional to a relationship-based view of the customer. Even in this initial model, there is a clear customer focus on 'Wow' and driving loyalty amongst critical customer groups.
InfusionSoft defined the role and purpose of each of its three pillars as follows:
Attract
In this initial stage, customers seek a product or service to help them solve their key needs. The business objective of this phase is to target, attract and collect prospective customers. Here lead magnets such as free trials can be used by businesses to attract customers in their search for a solution. Prospective customers transition to the next stage when their information is captured, organised and stored by the business.
Sell
In this stage, customers are looking for more information before making a purchase, while the business objective is to close the sale. Marketing efforts are therefore steered towards customer education and time-based promotional offers to ensure that customer and business objectives are met. Customers transition to the next stage when they make a purchase.
Wow
In this final stage, the business objective is to convert customers into loyal advocates while customers focus on generating more value from their relationship with the brand. Speed is paramount in this phase of the lifecycle, with businesses racing to delight and positively surprise customers within 30 days of purchase. Customers re-enter the selling phase through the cross-promotional or up-selling opportunities provided in this phase, but the ideal customer behaviour characterised by this pillar is referral generation.
McKinsey's Consumer Decision Journey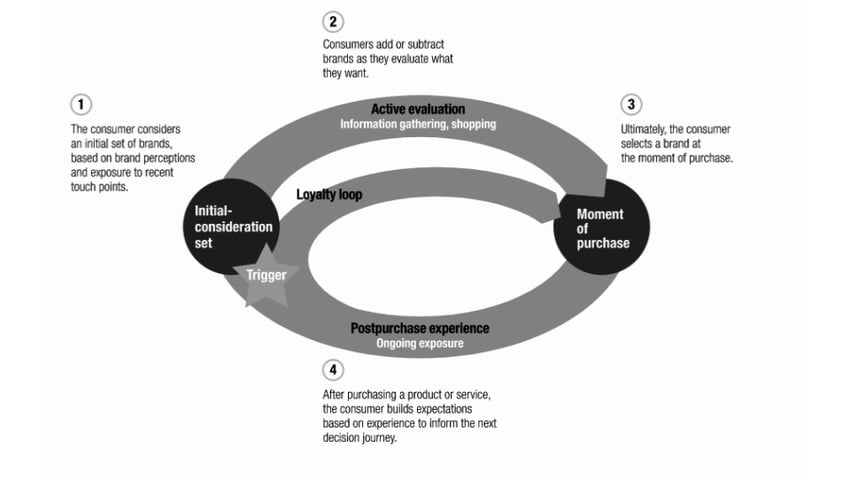 McKinsey's 2009 Consumer Decision Journey model broke new ground in articulating the need for lifecycles to be fluid.
It understood that to truly deliver the right message to the right customer at the right time, brands needed a non-linear operating system that focused on recognising the moments that really matter to customers.
While the first three stages mirror most other lifecycles, the fourth stage critically separates itself from different lifecycles. This model reshaped the understanding of the post purchase experience. Instead of signifying the end of the lifecycle - it was reimagined as only the beginning of a marketer's work to drive increased engagement, sales and loyalty.
Product-based Lifecycle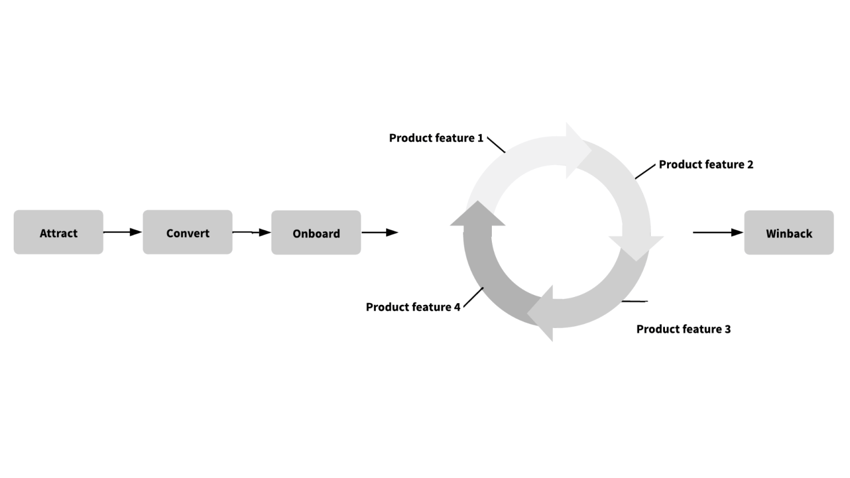 With the rise of SaaS-based business models, a need for a product-based approach to managing the lifecycle has emerged.
The model above demonstrates how the lifecycle can be adapted to drive product utilisation and engagement, both of which ultimately determine the success of any product's adoption and ongoing usage. Naturally, other objectives outside of 'product features' could also be built into this model.
Industry-based Lifecycle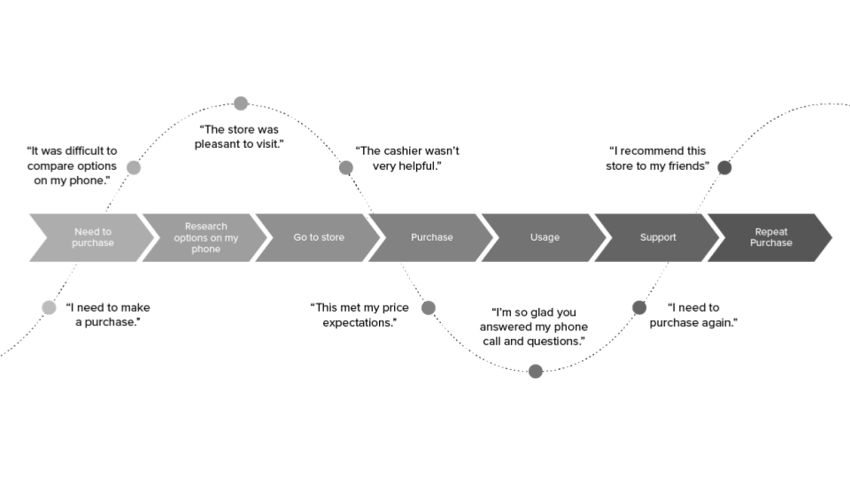 This customer-lifecycle model depicts a customer journey with a retail brand.
The customer objective for this industry-based lifecycle is clear - they intend to make a purchase. This differs from InfusionSoft's Lifecycle, which accounts for consumers who may not have a commercial intent when they are made aware of the brand.
This lifecycle demonstrates how customers engage with multiple channels in pursuing their primary objective - a good reminder of why 90% of consumers want a seamless omnichannel experience.
Loyalty-based Lifecycle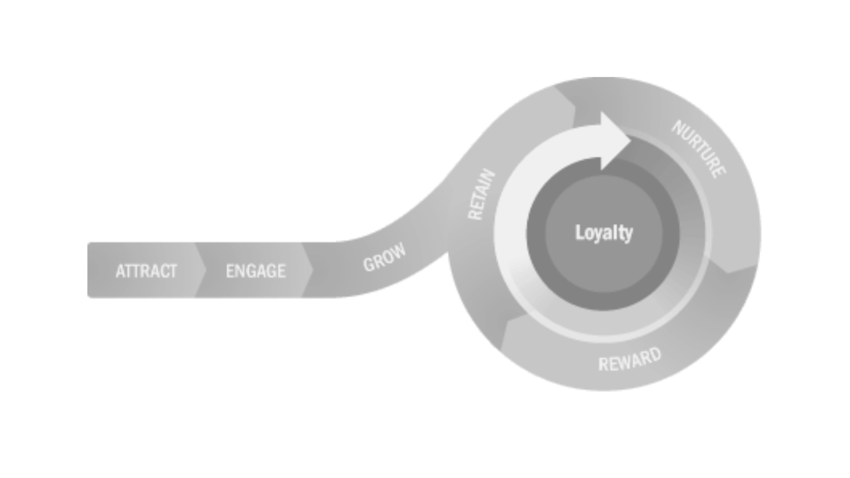 While a couple of examples we've shown in this article include a pillar for loyalty, the significant difference in adopting a loyalty-based lifecycle is that every stage of the lifecycle is geared towards building a valuable long-term customer relationship.
Here, the primary objective is for the brand to use every opportunity to create loyalty by recognising and rewarding customers.
A key difference with an approach like this is a switch in mindset from driving short-term, transactional sales to taking a longer-term growth strategy that aims to build customer lifetime value.
A model such as this is often complemented with a robust loyalty program.
A unique customer experience requires a unique lifecycle marketing strategy
Without sounding too much like a Pixar movie, the connection your brand has with its customers is one-of-a-kind.
That's why you need a fit-for-purpose solution that leverages an innovative and bespoke lifecycle that helps your customers and your brand get the most out of each other.
Start creating lasting customer relationships today.
References