What do your customers want? What do they really really want?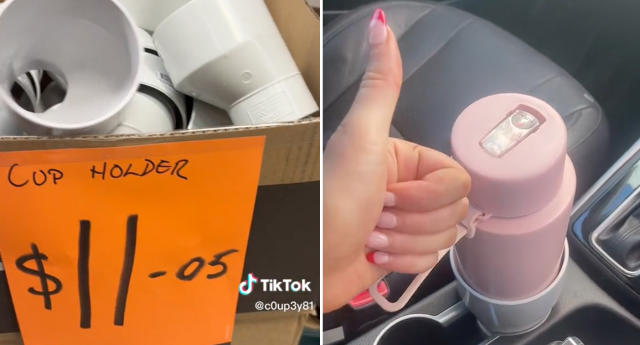 If you're on TikTok, you might be familiar with the "Bunnings Cup Holder" trend that's going around. For those who prefer not to waste their free time scrolling, here's a quick summary.
Health-conscious young people who spend their days ensuring they drink their recommended water intake are faced with a glaring and horrifying problem - their car cup holders no longer fit their massive drink bottles. The solution to this problem came from an unlikely hero, Australia's favourite hardware store - Bunnings.
A resourceful TikToker found that some PVC plumbing piping sold at Bunnings acted as a "Cup Holder Extender" that when placed in traditional cup holders allowed larger water bottles to fit effortlessly, affording refreshing hydration to many as they drive their car. The trend became so popular that Bunnings was reportedly selling out of this specific piping, leaving many plumbers very confused and likely very dehydrated.
Underneath this entertaining internet trend is a relevant and meaningful insight for modern brands - the value you offer your customers and the value your customers get from you may be different than what you think. Therefore it's worth considering what your customer attributes to their idea of value and the role CX plays in helping shape these perceptions of value.
Value is in the eye of the beholder
How do you know what something is worth? It's not just a question for investors like Warren Buffet to answer, it's a question we all must answer every day. Most importantly, it's a question your customers ask every time they engage with your products and services. Price is just one aspect of the equation - but the other, more subjective side is that of customer value.
Bain & Co's 'Element of Value' pyramid provides a rigorous and helpful framework through which we can begin to answer the psychologically complex question of what consumers truly value. Influenced by Maslow's Hierarchy of Needs, the pyramid identifies 30 fundamental attributes and charts them across four categories - functional, emotional, life-changing, and social impact. The framework facilitates a deeper discussion of value, going past general phrases like "customers find us convenient" to discussions focused on specific functional values like "saves time", "avoids hassle" and "reduces effort". If your natural inclination is to chart your own brands, services and products against this model - follow that instinct.
Very quickly you'll be able to understand the areas of value in which your brand, products and services are succeeding and perhaps the areas in which your competitors are outperforming you. Not only does this framework provide a system by which to audit your ability to create customer value, but it also provides you with a structure for creating more. By simply focusing on integrating additional value elements, brands can expand their value proposition without drastically redesigning their offering.
For example, when the delivery subscription service Amazon Prime added the additional value elements of 'entertainment' (access to streaming services) and 'avoids hassle' (unlimited photo storage) - customers stuck around for a $20 price rise over the course of a decade. By adding more elements of value over time, brands can feel confident that loyal customers will continue to engage even if there is an increase in price. In their research Bain & Co were able to test the pragmatism of this approach in three ways - its ability to build loyalty with customers, its ability to generate revenue at a faster rate than competitors and its contributions towards helping a brand increase market share. Here are the results:
Loyalty:

Companies that succeeded across four or more value elements had, on average, three times the NPS of companies with success in just one value element. Not to mention, 20 times the NPS of companies with success in none.
Revenue:

Companies that succeeded across four or more value elements had recent revenue growth 4x greater than that of companies with success in just one value element.
Market Share:

This was also proved empirically with examples such as Amazon Prime providing a near-perfect case study. With the tech retailer capturing 40% of the US market over 10 years.
Would you rather ice-cream flavoured dirt or dirt flavoured ice-cream?

Yeah, it's a weird question you probably haven't heard since primary school. And while both options sound equally terrible - there is an interesting CX question here: what's worse - a good experience of a terrible product or a bad experience of a great product? The answer - they both sound like you're leaving a bad taste in your customer's mouth.
Think of a frequent flyer who has just achieved the top level of status within their program. There is a huge amount of intrinsic and perceived value attached to this moment and leveraging Bain & Co's model the customer is likely experiencing the life-changing value of 'belonging/affiliation'.
But what happens when at the check-in, boarding or during the flight this highly engaged, highly receptive frequent flyer is not recognised, acknowledged or treated any differently? What could have been a valuable moment can very quickly be amplified into a negative detraction point.
Not only does this value framework give us the opportunity to map how our brand, products and services create value for customers, but it also gives us a framework to understand how key moments in the customer journey can be used to reinforce value to your most important customers.
True value is consistent
Identifying how and when your customer expects value is the first battle, the second is remaining consistent over the long term.
Before you let the weight of the statement overwhelm you, you should know that 78% of consumers will do business with brands that have a great customer experience even after a mistake.
Even negative moments can be used to instil value into your customers. By understanding the elements of value that make up your customers' expectations you can begin to develop a clear understanding of why your customers come to you and how you can build deeper, more valuable relationships over the long-term. At the very least you'll figure out if your customers are buying plumbing supplies or really big cup-holders.
Did you find that valuable?
Don't worry, there's more! Download the full whitepaper for free here. Or get in touch, we'd love to chat.